Keeping the Bells Ringing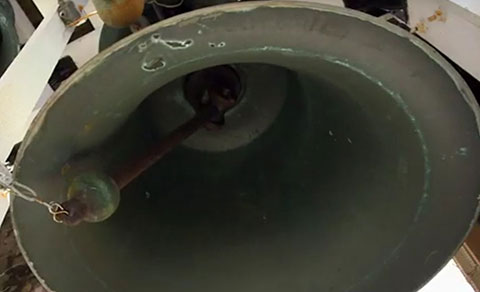 A recent CBS This Morning story celebrated the hallowed tradition of ringing church bells and highlighted McShane Bell Company's role in keeping the tradition alive.
CBS News journalist, Dana Jacobson, shared the sound and story of the bells of St. James Episcopal Church in Upper Montclair, New Jersey. The oldest and perhaps the most historical bell foundry in the United States, McShane Bell Company created the bells in this historic tower dedicated to the memory of 93 parish World War One veterans.
"For more than a century the striking of clappers against the side of these bronze bells has been ringing vibrations across Upper Montclair, New Jersey," Jacobson reports. Her discussion with Sean Price, Director of Music Ministries at the church, detailed his playing of the bells for fifteen minutes daily during the pandemic and its healing effect on the community.
"There are certain sounds that bring people back to a time in their life that may seem a little happier, perhaps," Price shared. "Especially during the pandemic, this music has really inspired people and its given people hope."
Earlier in 2020, however, the intricate system that allows those eleven bells to be played required repair. St. James called on the expertise of the McShane Bell Company who cast the bells and installed them in 1918. James Androuais, who acquired McShane Bell Company in 2019, told Dana Jacobson that he still has the ledger of bell installation from June 11, 1918.
"The interesting thing is that these bells were actually shipped via B&O railway, some (records) will say 'canal' so they went on the Erie Canal or boat." Androuais said. He has ledgers for the company that date back to 1870. "We don't know how much they cost, though some of our other records show what each bell was charged for."
The demand for church bells has waned with the advancement of technology, but that has not stopped James Androuais. "The idea is to grow the company back into what it once was and to get the name back out there…with over 100,000 bells cast around the U.S. and parts of the world, we are within throwing distance of one of our bells."
The McShane Bell Company moved from Baltimore to St. Louis in 2019, and has been honoring the tradition of bronze church bell casting, ringing peals, chimes and bell carillons since 1856. Androuais is confident that the sound and comfort the bells provide will be around for many centuries to come.
"There will still be the need for bells and the want for the beauty of them."
Watch the video here!